Description
NEENAH IMAGEMAX® SIGNAGE - an environmentally preferred 100% paper-based, 100% recyclable alternative to polystyrene sheets!
Features include:
-PVC free
-FSC® certified
-100% paper-based
-Green-e® certified
-100% blue bin recyclable
Smooth coated substrate specifically engineered to deliver exceptional printing results:
UV, Latex, UV-gel, Screen
Benefits vs. Polystyrene:
-Static-free for smoother, faster printing and minimzed nozzle drop-out
-Up to 20% lighter equals more savings on shipping
-94% brightness for clearer, longer-lasting image reproduction that won't yellow over time
-Dead white for double-sided printing
-Ink absorption allows for exemplary printing without banding
-Faster cut times for improved production efficiency
-No fingerprints - paper-based composition does not capture oils
NEENAH IMAGEMAX® is one of a kind alternative to plastic. It's made with 30% post-consumer waste and has the ability to use techniques that plastic won't allow—like hot and cold foil, engraving and embossing.
This sustainable PVC-free substrate is suitable for nearly all polystyrene applications:
-HANGING SIGNAGE
-POINT OF PURCHASE
-POINT OF SALE
-SHELF TALKERS
-DIRECTIONAL SIGNAGE
-LOYALTY CARDS
Sheet are compatible with all types of flatbed printers: UV, Latex, Screen
Rolls are compatible with UV, UVgel and Latex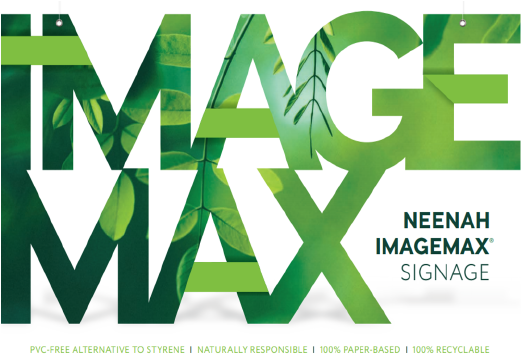 Physical characteristics
Finish: Bright white

---
Brightness: 94

---
Features
Environmentally friendly

---
Static-free

---
Up to 20% lighter than styrene

---
Better ink absorption

---
Manufactured with post-consumer waste (PCW)

---
100% recyclable

---
FSC certified

---
Alternative to styrene

---
Available thicknesses
0.254 microns / 246 grams

---
0.356 microns / 381 grams

---
0.457 microns / 454 grams

---
0.711 microns / 687 grams

---
0.965 microns / 876 grams

---
Available board sizes
1220mm x 2440mm

---
1270mm x 2540mm

---
Applications
POS displays

---
Hanging signage

---
Point of Purchase

---
Shelf talkers

---
Directional signage

---